2016: Opening of the first French building « University Space Center » at the University of Montpellier with the support of the Occitanie Region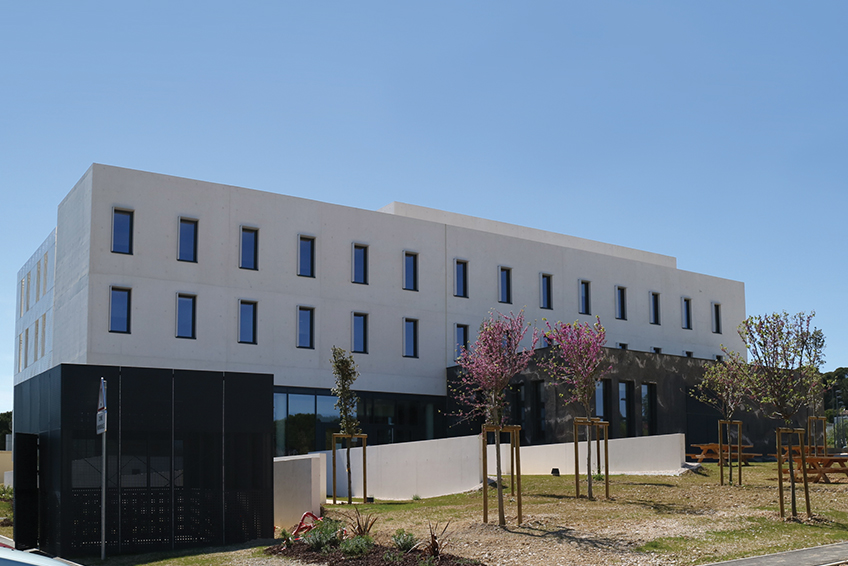 Facilities:
means of development & associated systems of a satellite
In addition to its own nanosatellites,
the center can offer services to companies requiring equipment or services:
A concurrent engineering room
An electronic platform
Clean rooms
A radio-communication room
A control room
Potential Partners: Research Laboratories and Industries
Laboratories:
L'INSTITUT D'ELECTRONIQUE ET DES SYSTEMES,with the RADIAC research group « Radiation and Components »
LIRMM:Microelectronics Robotics Computer Science Laboratory Montpellier
LMGC : Laboratory of Mechanics and Civil Engineering
Industries :
AIRBUS DEFENCE & SPACE :European leader in satellite environmental qualification
SYSTHEIA : Microcameras and systems for extreme environments (including space)
TECNALIA FRANCE : Research and technology in industrial robotics
TRAD :Test and radiation on electronics
+ Technological transfers : AXLR SATT, and LANGUEDOC-ROUSSILLON INCUBATION
Montpellier, initiator of a national dynamic « university nanosatellites »
At the heart of the Occitania Pyrenees-Mediterranean Region, capital of space
With 2 major complementary poles:
Toulouse, European leader in space and satellites, Montpellier, national leader of university nanosatellites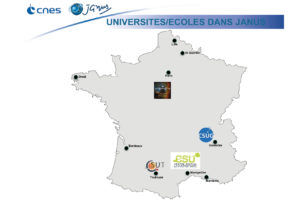 Source : CNES
Given the success of Montpellier, the initiative serves as a model.
The Montpellier University Space Center is proud to have initiated this dynamic and is preparing new collaborations to support its colleagues in their development.
New CSUs are being created in France: in Grenoble, Toulouse and Paris.
The one of Montpellier is today the only one to master all the technology of nanosatellites, since everything is developed internally. It is also the only one to put in orbit « French nanosatellites « .
Schools and universities are also launching nanosatellites, without a CSU: for example Marseille, Brest, Lille, St Quentin …
De plus en plus d'industriels s'intéressent au marché des nanosatellites.
* : Un nanosatellite, même fabriqué en France, doit respecter l'ensemble des lois françaises s'il veut être autorisé par la France à l'envoi en orbite (et être déclaré « nanosatellite français »). Par exemple, la loi française LOS sur les débris spatiaux pour un Espace propre est plus exigeante que la loi européenne.