Founder members & supporting institutions


Leading personalities on the Board of Directors: a strategy defined by experts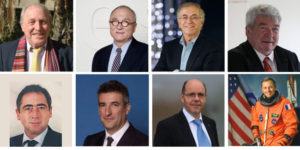 Leading personalities on the Board of Directors: a strategy defined by experts.
Michel COURTOIS, Président of the Van Allen Foundation, former Directeur of CNES Toulouse and l'ESA/ESTEC,

Member of the Academy of Technologies.

Jean-Jacques DORDAIN, Former Director of ESA
Charles ELACHI, Former Director of JPL/NASA
Jean-Claude GAYSSOT, Former Minister, President of the Campaign Committee
Thierry LEVEUGLE, President of ThiReX Engineering
Franco ONGARO, Technical Director, ESA
Marc PIRCHER, Former Director of CNES Toulouse, Member of the Technologies Academy
Michel TOGNINI, French Astronaut, Former Director of ESA astronauts centre
Campaign Committee Ambassadors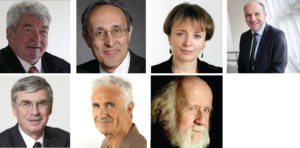 Jean-Claude GAYSSOT, President of the Van Allen Foundation Campaign Committee, Former Minister
Bernard BIGOT, CEO d'ITER
Anne BONDIOU-CLERGERIE, Director "Affaires R&D, Espace et Environnement", GIFAS
Christophe CARNIEL, CEO VoGo, President of LR Transfers
Jean-Paul HERTEMAN, Former CEO, Safran Group
Daniel KUNTH, Director of Recherche CNRS, Astrophysicist
Hubert REEVES, Astrophysicist
Members of the Partners Club of the Van Allen Foundation

The Van Allen Foundation has a presence in the sector's key networks


A global business cluster aimed at making the aeronautics, space and embedded systems sector in the two French regions of Occitanie and Nouvelle Aquitaine more competitive at the national, European and international levels. Aerospace Valley is a cluster of businesses, research institutes, training establishments and other institutions working in this sector.
An Occitanie-based business club, with nearly 90 member companies and institutions mainly from the space industry and related sectors and bodies. Its mission is to promote and respond to the needs of business entrepreneurs and managers in Toulouse and the surrounding region. Comprising very small businesses to large-scale groups in both industrial production and services, it covers numerous business sectors. Club Galaxy is headquartered in the influential Cité de l'Espace and contributes to its reputation.
French aeronautics and space industry federation