TRAINING THE NEXT GENERATION OF TALENT
Thanks to the financial support of its patrons, the Van Allen Foundation gives young people, particularly from the University and the Graduate School of Engineering, the opportunity to learn about the space industry by working on practical, real-life satellite projects.
Funding from the Van Allen Foundation, allows the Montpellier University Space Centre (CSUM) to provide internships and/or projects, where students and trainees work in teams lead by experienced engineers.
Since the beginning of the venture, the Van Allen Foundation has funded more than 200 internships for French and overseas graduates with 2 – 8 years completed study.
Today, despite the pandemic crisis, the Foundation is funding the internships of about 30 young people per year, representing a grant of €45,000 paid each year to the University of Montpellier.
Testimonials from our students
Discover FVA&ME, testimonials from students and alumni of the Montpellier University Space Centre, funded by the Van Allen Foundation.
Today, the CSUM team numbers more than 25 people, including engineers funded by the Van Allen Foundation, who mentor 1 to 3 trainees per year.
The Van Allen Foundation's ongoing funding guarantees CSUM a stable core team and the efficient sharing of knowledge with new entrants.
Annually, a grant of around €180,000 raised from donations permits 4 to 5 engineering positions to be funded.

The Van Allen Foundation finances and supports the work of the CSU, including contributing to the development of the French university CubeSat project. Through the foundation's network we are able to find collaborators with whom to realise our projects."
Sara, Electrical Power Systems Engineer

FVA's support of the CSUM is decisive and instrumental in the development of the nano-satellite projects that I coordinate. Thanks to donations from corporate donors and the funding of the engineers and students responsible for their design and implementation, the CSUM CubeSats are on track to succeed."
Tristan ALLAIN, Engineer, 3U Head of department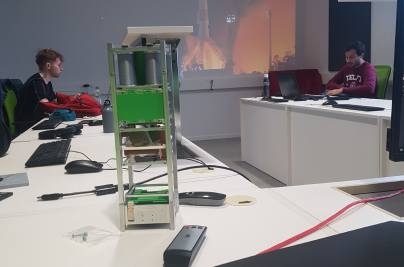 Funding the Engineering Collaboration Centre (CIC)
The Foundation has enabled the CSUM to set up an Engineering Collaboration Centre (CIC), a workspace in which to simulate all aspects of a mission in order to assess its feasibility.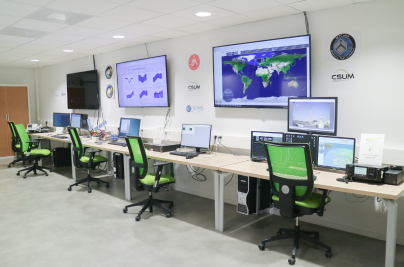 Funding the control room
The Foundation has funded the fitting out of the control room, a strategic hub for monitoring the development of the nanosatellite mission in real time.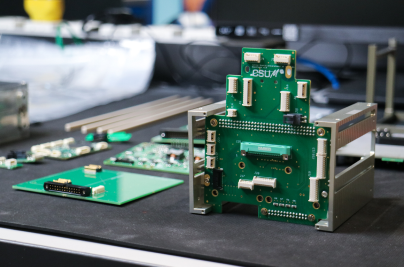 Funding of small items and consumables
Where necessary, the Foundation contributes to the purchase of electronic components, tools, etc.
This represents a budget of €10,000/year.
Creation of training courses
The Van Allen Foundation, always attentive to its partners and its network, is likewise able to put in place the teaching elements to meet the recruitment and training needs of companies. This is why, since 2016, the Montpellier University Space Centre (CSUM) and the Van Allen Foundation have been involved in the creation of innovative new space industry training courses, available as in-service training and work-study programmes.
For post-graduates (students with 5 years completed study) who are looking to specialise in the space sector:
More information about the Graduate School of Engineering Master's in "Development of Space Systems"